Regular Social Dancing in Torbay
with Dancing Duo — Henry & Jeannie Clark
Welcome back to all our dancers, hoping you have all kept fit and well since we were last together. Who would ever have thought it would would be more than a year since the pandemic changed all our lives for so long.
But it looks like our dancing can get going again from mid-year.
We will post dates and details as they are finalised.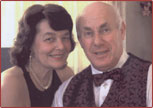 For the last 23 years, Dancing Duo Henry and Jeannie Clark have delighted the dancers of Torbay – and way beyond – with their programmes of weekly dances, special events and Dance Holiday Breaks.
What started as a hobby has evolved into a busy career for the enthusiastic couple, whose first priority is to provide the pleasure of quality ballroom, Latin and sequence for their dancers.
Dance Holiday Breaks
Annual dance holiday breaks have proved very popular at various quality hotels - all dancers' favourites and all in coastal locations:
Only the best hotels all with spacious ballrooms are selected - a policy which has paid off in popularity right from the start. And great deals are offered for these exceptional value holidays.
Henry and Jeannie are renowned for offering the best dance music available and great atmospheres created by theme nights and the friendly outgoing nature of the hosts and their regular supporters. Visiting groups are always made to feel very welcome.
As a result, worthwhile numbers of dancers join them at up to 6 venues, with 2 a year now at the most popular resort: Dawlish. Nowadays they include people from all over the country, as well as those from their home territory in the south west. Two holiday breaks in June & Nov/Dec are hosted at Torquay's Victoria and Carlton hotels.
Regular Social Dancing in Torquay and Plymouth plus other occasional venues
Torquay's Livermead House Hotel
Torquay's Livermead House Hotel, on the sea front, is the number one venue where dancers gather every Thursday evening from 8.00 - 10.30 pm. One-hour teaching sessions precede the dance with a qualified instructor (6.45 to 7.45 pm).
The Elm Community Centre, Plymouth
The Elm Community Centre is our venue for dances in Plymouth and are held every fortnight on Saturdays.
Private Dance Functions
Dancing Duo can also be booked for private functions and special celebrations.
Just phone 01803 325 905 to enquire about dance dates or availability to run private functions.